4 Lessons from a Practical Podcasting Example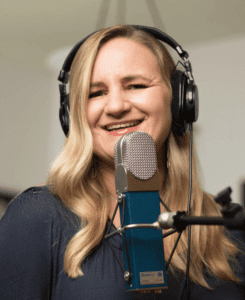 By: Tiphany Kane, CEO- KaSa Media Publications
Tiphany Kane & David Sais of KaSa Media Productions Photo credit: Greg Sais
One of the first big hurdles new podcasters have to overcome is naming their podcast. We have seen it time and time again with our podcasting clients. They go back and forth on the name of their podcast. They are unsure what name to use and are often terrified of being locked into a name they may want to change in the future. Our big advice to our clients: Choose a name with clarity and purpose.
Lesson 1: Clarity and Purpose
credit: thepodcasthost.com
So you are probably asking yourself, "What exactly does it mean to name your podcast with clarity and purpose?" Clarity directly relates to your purpose. Is it clear to your listeners what the purpose of your podcast is from your title? Do they know why they should be listening to you?
According to a survey done by The Podcast Host, 40% of listeners find their podcast by searching key terms within the podcasting directory. This means that people are typing in terms such as: marketing, branding, true crime, divorce, travel, etc. A simple SEO search on your topic can help you searchable find key terms on your topic. Then use these key terms in your title.
Lesson 2: Keep it Simple and Clear
When my partner & I were deciding on a name for our second podcast, we experienced some of the same challenges as our clients. Our original name for our podcast was poetic and beautiful. It was "Poised at the Intersection of Voice and Story." Not only was this name a mouthful but our listening community was very confused as to our purpose. Very few members of our community understood what our podcast would be trying to accomplish.
As much as we loved the esoteric name, we realized that it would not help us to connect to our audience. We decided to go with the name that our audience was already familiar with and identified with. We are so glad that we did! Our audience loves the name and is deeply engaged with each episode.
Lesson 3: Engage with Your Audience about your Podcast Name
We were fortunate to already have a community of followers when we launched our 2nd podcast and we connected with these followers about our name. Our community told us loud and clear that the name was confusing to them. Our Facebook Community is called "Mastering the Podcaster Mindset" and we teach a course called, "Mastering the Mindset and Mechanics of Podcasting." So our community let us know that they wanted us to use the name they were familiar with.
The bonus to engaging with your community is they become very invested in your podcast because they feel so invested in helping to name the podcast. We experienced this enthusiasm first hand and were able to celebrate the launch with our community.
If you don't currently have an engaged community, imagine who would be in your community. Reach out to potential listeners in other groups and engage with them. See what terms and titles resonate with people.
Lesson 4: Connect Your Purpose with Your Brand and Message
If you already have a brand and a community, connect the purpose of your podcast to your brand. Think about the podcasts connected to a personal brand that you enjoy listening to and inspire you. These podcasts either have either a personal brand or some sort of message.
For example, the incredibly popular podcast, We Can Do Hard Things with Glennon Doyle connects with her message. "We can do hard things" is a line from her book Untamed, and it was something that really resonated with the people in her audience. "We can do hard things" became this rallying cry with her community and she turned it into the name of her podcast.
Another example is Brianne Davis who has been a guest on our podcast. Brianne wrote a book called Secrets of a Hollywood Sex and Love Addict, and she named her podcast Secret Life. Her podcast name aligns with her brand and her mission to release shame around the secrets that keep us trapped. Her audience deeply connects with her because her mission is so clear.
So as you decide on the name of your podcast, remember to keep the name simple with clear terms related to your topic. Engage with your community and get their feedback on podcast names you are considering. Finally, connect the name of your podcast to your brand and message.
_____________________
Tiphany Kane is a podcast coach, podcast host, & co-founder of KaSa Media Productions. You can find Tiphany on IG @tiphanykane @podcastermidset Podcast: Mastering the Podcaster Mindset Podcast: Love & Life After Diovrce